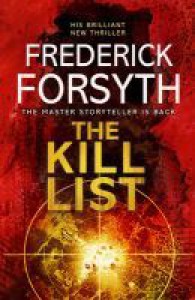 Its after a long time that I picked up a book by this author. The last I read was The Odessa File some 2 years back. I had almost forgotten what a fantastic author he is!
The Kill List is about just what the title suggests – a list of people who are tracked and assassinated. This time it's an imam who has been placed on the list. 'The Preacher' has made it his target to send out a message to the radical section of the society and carry out assassinations of people at high places and importance. It results in him being the next target on the kill list and our protagonist getting involved. Christopher Carson comes with a long list of accomplishments and is considered to be the perfect man for the job. However, tracking and killing a faceless person, no matter how famous or infamous is not an easy job, especially when The Preacher makes it personal and tries to rain down hell on Carson.
Christopher Carson is a person you expect amazing things from. With his background, you believe that nothing may be impossible for him. But it is his dedication and operational actions that makes you really like him. Then there is The Preacher – a worthy opponent for Carson. I have always had trouble believing/understanding the 'Virgins waiting in Paradise' concept of the Jihadists – how can any God not condemn the killing of innocent people? And so, I guess I was in a bit anti-Preacher mode from the beginning, but as far as villains go – they all have twisted logic behind their actions and so I guess it may as well have been him. I also particularly liked the character of Ariel.
The plot and the pace is in true Frederick Forsyth style that keeps you glued to the pages until the very end.